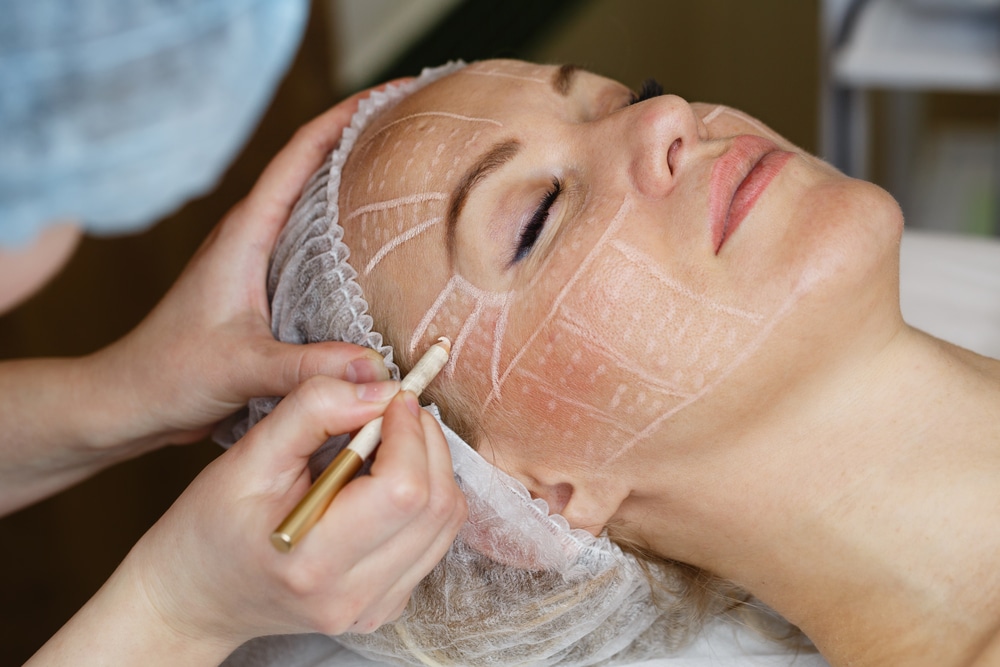 As the face ages, deflation of soft tissue and deep or superficial fat compartments in the cheeks and around the eyes leads to volume loss and poor skin support. Starting from the cheekbones, this loss of facial volume causes the skin to droop or sag causing prominent nasolabial and marionette lines, cheek hollows and ultimately, unsightly jowling which compromises the smooth contour of the jawline.
A traditional facelift (rhytidectomy) is a cosmetic surgical procedure (often a 5-hour surgery or longer and usually under full general anaesthesia) to create a younger rejuvenated appearance on your face. Until the mid-nineties, this was the only way to address the sagging face. The surgery involves incisions around the ears, in order to free up the sagging facial tissues and suspend them in a higher rejuvenated position. It is an excellent procedure for creating youthful neck contours. However, ageing of the face still occurs and the facelift may need to be repeated after several years.
Since then, in the last 25 years, there have been several innovations in the field of facelifting and we now have the benefit of both surgical as well as non-surgical methods. We will talk about Thread lifts which is a popular term that was first coined by Dr Woffles Wu in 2001. That was when he invented the non-surgical Woffles Threadlift that is popular today amongst those who want natural discrete results.
The Woffles Lift is a 45-minute non-surgical facelift (Threadlift) procedure performed under utmost surgically sterile conditions. The threads used are permanent and not dissolvable. No incisions are made on the face. There is only a tiny incision on each side of the hair-bearing temples. Recovery is between 3-7 days. Results are natural as the vector of pull and rejuvenation is upwards towards the temples, not backwards to the ears.
What is the best method for a facelift? Well, there is no one best treatment for the ageing face. Every patient has to be individually assessed and a treatment plan devised for them. Some people wish to have surgery, some do not. Some want a super pulled result, others do not. Some patients work and don't have much time off, some of course can take time off for the two to three weeks you need to recover from a traditional surgical facelift. What we provide patients are different options to suit their lifestyle requirements or preferences.
What are the benefits of non-surgical cosmetic treatments?
Although a non-surgical cosmetic treatment likely won't give you the same dramatic results as a surgical facelift, non-invasive procedures can be very effective at targeting:
wrinkles and deep creases
loss of facial volume
skin tone and texture

Wrinkle and frown line reduction
When it comes to reducing the appearance of wrinkles and frown lines, injectable therapies such as Botox and other botulinum toxin injections are the clear winner.
Wrinkle reduction and facial volume
Dermal fillers are injectable treatments that consist of gel-like substances, such as hyaluronic acid, poly-L-lactic acid, or calcium hydroxylapatite. Your doctor will inject these substances beneath your skin. Each doctor has their own preferences. Dr Wu prefers to use only dissolvable HA fillers.
Skin tightening
One popular non-invasive technique is Skintyte, which delivers broadband light BBL heat energy to lift and support the skin of the cheeks and upper neck.